One of the most loved adult toys of all time, the Hitachi Magic Wand, is a classic vibrator and still pulsing as strong as ever!
These adult toys I personally use and recommend.
Hitachi Magic Wand (Original with cord) $69 list
Magic Wand Rechargeable $125 List
At the top of my all-time favorite adult toys are the Hitachi Magic Wand and it's cordless little cousin. While not for the faint of heart these two powerful good friends bring me off to insatiable climaxes making me crave more and more. I have owned many adult toys, but the original Magic Wand  always delivers my most incredible and intense orgasms. The rechargeable is lighter and quieter than the original corded version yet maintains the same powerful vibrations women have been relying on for nearly fifty years now. They now offer a "rabbit-like" attachment head that has two extensions, an ergonomically curved "dildo" shaft that and a shorter one—perfectly positioned— with those cute vibrating "rabbit ears" that stimulate your clitoris we've all come to love from the now-famous "rabbit" vibrator. This is a must-have for those girls who love intense stimulation from their sex toys for more direct clitoral stimulation and penetration. Attachment is sold separately, so you can always add it to your "favorites" and look forward to your new gift arriving on some special day you've been waiting for.
Adult toys that stimulate your clitoris and your vagina…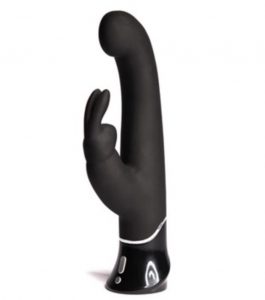 Fifty Shades of Grey Greedy Girl G-Spot Rabbit Vibrator $99 list
This tantalizing black vibrating sex toy provides glorious overstimulation inside and out! A big, satisfying rabbit's G-Spot tip and vibrating bunny stimulator know just how to hit all the right places. Each stimulator has a separate, independently controlled vibrating motor. Feel the shaft's 12 modes of speed and patterns as sense ripples of pleasure inside your sex. Combine them with the bunny stimulator's 3 vibration speeds and uncover up to 36 levels of pulse-racing sensation. Another one of my "must-haves".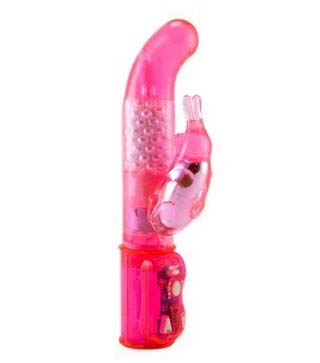 Rotating G-Spot Rabbit Vibrator $49.95 List
This revolutionary vibrator rotating shaft spins and wiggles, creating a more realistic experience while delivering fresh and enhanced stimulation to your vagina and the moving pearls in the vibrator shake, rattle, and roll in a special chamber rubbing against your G-Spot, and provide your inner and outer lips stimulating massage. The specially curved and enlarged G Spot Tip makes it easier for you to find it without distraction while you focus solely on the waves of pleasure and the orgasm about to come.
Leaving no stone unturned, the soft Rabbit Ears vibrate hundreds, if not thousands of times a minute, to tickle and tease your clitoris. You choose from 7 different vibration speeds and patterns and six different rotation speeds to create special combinations for foreplay and climax – giving you a new experience every time you use your rabbit vibrator. Made from soft,  flexible jelly this G-Spot rabbit vibrator delivers every time you turn it on—and then some! My deepest thanks to the creators of adult toys like these!
Evolved Wild Orchid Vibrator $129 List
For those who like their vibrators with different speeds for your lcit or vagina, this powerful, sensual and curvy, the Evolved Wild Orchid in its luscious pink hue, offers your one flexible clitoral stimulator and a large shaft each with  it's own separate motor. The 7" long, 5" insertable shaft with bulbous G-spot tip  will fill you and massage your that special spot to the brink of orgasmic cravings while the smaller head will tease your clitoris until your eyes roll back, your eyes close and your knees shake.  It's waterproof and gives 50-100 minutes of uninterrupted pleasure. It's smooth-as-silk silicon pulsates and escalates and the 24 unique combinations provide a news experience every times. One of my favorites and always nearby in my nightstand.
For those ladies who like discreet, anytime, anywhere!
A&E Silicone Diamond Darling Vibrator $35 list
A 21st century take on the famous Pocket Rocket from japan, this luscious silicone vibrator is only 1" wide and can insure up to 4" and has nice textures and ridges and a "classy" rhinestone base that makes you proud to keep it in your purse for those opportune moment when you just absolutely have to satiate your moist little kitty. 100% Latex free and waterproof, you can bring this anywhere, discreetly, and no one will ever know as it is as quiet as the breeze. These are my top five vibrating adult toys for women, so whichever of these makes your girl-power tingle, with any of these I can promise you countless pleasures between your thighs. Whatever are your own favorite adult toys, us ladies know what we like and how and when to satisfy ourselves!
Read more →